Goalkeeper AJ Roberts is set to live a childhood dream in June when she steps onto the football pitch in an England shirt.
AJ has been selected to play for the England Transplant Football Team, and will fly to Holland to play in the international NLTX Cup – a tournament featuring teams from England, Wales, Spain, France and Italy. What makes this event different is that all players will have had an organ, bone marrow or stem cell transplant.
We are delighted to be sponsoring AJ's trip. We heard that AJ had been selected to pay for England, and she put out an appeal for sponsors to help her secure flights and accommodation for this trip of a lifetime. As a business one of our core areas is providing products for those with kidney failure and dialysis – such as dressings like Cath Dry that are used by people undergoing kidney dialysis enabling them to shower and swim.
AJ herself had a kidney transplant three years ago, and never imagined she would have the opportunity to represent her country. "I'm thankful for my gift of life, as will every player on the field in this tournament. To be chosen to play for England is a great honour, and I'm a little nervous although the management and training staff have been incredible. We've been fortunate enough to train at St George's Park National Football Centre in Burton on Trent, and getting our team photos taken really made this dream feel real.
"I couldn't be doing this without the generosity of my sponsors. A huge thank you to Patient Choice that has put up the majority of the money that I needed, and The Queens' Head pub in Tiverton, who together have funded the trip for me."
The England Transplant Football Club (ETFC) was set up by Stevie Woodrow after he had a transplant in 2012, and the club now works closely with the England FA to support football development and run teams for men and women.
Tiverton-based AJ flies to Holland for the weekend of football on 16 June. If this wasn't enough, AJ is also completing 68,000 steps throughout June as a team challenge with ETFC to raise vital funds for National Kidney Foundation, that supports kidney patients and their families. The figure represents people in the UK currently being treated for end stage renal failure.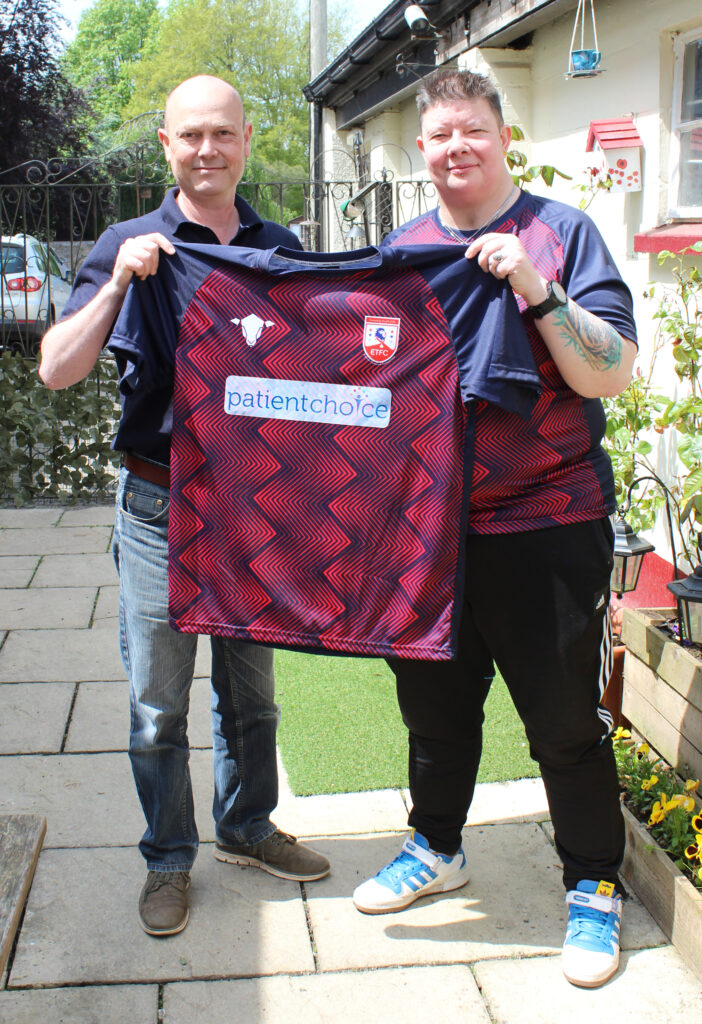 Steve Lodge, non-exec director at Patient Choice, with AJ Roberts and her sponsored England training shirt.